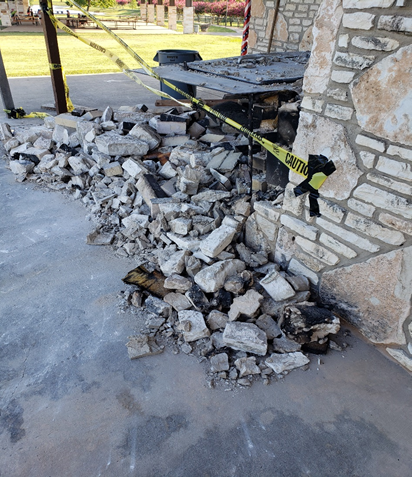 About the picture:
A property owner was given permission by our previous TPOA board President to go to the clubhouse, destroy the area where the smoke pit/BBQ is built-in to remove the pit for his or her personal use prior to actual demo start date. Was that ever discussed with the neighborhood for an opportunity for all who might be interested in the same opportunity to have the option to remove something via lottery or other objective manner since it is community owned? Or was this just a friend helping a friend with property that belongs to the neighborhood? Who was this property owner? Ultimately, there was no construction fencing up, there were no permits in place yet and this individual should not have been destroying the building and the pit at the very least until demo had begun in earnest with the proper safety precautions in place – oddly enough as the destruction took place the individual realized the whole pit was cemented in place surrounded by stone and it was destroyed in the process with the debris and crushed pit left behind along with the nice mess you see in the picture.
I had occasion recently to receive an e-mail from our former HOA board President, Greg Matula. The message contained his perspective about my blog, and his opinion of his and my management styles when it comes to a neighborhood association among other things. From the contents of his e-mail I quote the following: "I know you and I probably have many differences of opinion on how the association is run, but I appreciate the fact that you have always kept things cordial. I also appreciate that you spent a lot of time serving as a board member and gave much time and energy to the community."
You know, he's right, we do differ considerably about how an association should be run. Take a look at just a few of those differences:
As a former POA President here in Timberwood Park, my tenure included open, transparent inclusive communication neighborhood wide to everyone in-spite of differences of opinion or ideologies. Now we have a board who hides behind the power of their position using terms like "you elected us, and we can do whatever we feel is appropriate without seeking additional approval from the property owner".
If a property owner had a question and I or my board didn't have the answer handy, we made note and got back to the property owner with an answer. Now we get "we'll look into that" and never hear another word unless the issue or matter is continually pressed.
As we navigated a long, drawn out process of turnover from the developer to the property owners there was constant communication on many levels to ALL property owners in Timberwood Park, not just those who agreed with the board, but EVERYONE. Now, for example, you have CLOSED Facebook groups which supposedly represent the community for communication but doesn't allow for open conversation or discourse on any given matter, as well as secret meetings, community meetings where property owners are not allowed to actively participate in decision making processes. At most of these community meetings property owners are "allowed" to speak in a "citizens to be heard" at the end of the meeting "if there is enough time" – adjournment usually occurs quickly during this time because the board usually only allows 1 hour for most meetings. Period.
In the past, the bulk of the neighborhood newsletter contained the business of the neighborhood presented in a timely manner. It came to your mailbox on deadline and within the same month the news was generated. Yes, there were social events mentioned and a few pictures here and there, but the bulk of the newsletter was about the business of the neighborhood – the turnover progress, County matters that effected the neighborhood, issues with local government and other entities that were being addressed and so on. Now we get a newsletter which by and large depicts the many social events and activities and leaves little said about the actual business of the neighborhood like our true financial picture, open discussion about plans, timelines, projects, who sits on committees, etc.
In the past, board members made themselves available and responded to critics, property owner questions and concerns and communicated directly with those property owners even when it might be uncomfortable or unpleasant. Now we have board members, most of, but not all, who defer to Spectrum Management to provide answers on matters which are important to property owners directly.
So, what do you get for $1.5 million dollars? Let's look at some of the top things I can think of:
YOU GET RAISED ASSESSMENTS!!!! Remember when Scott Myles and Greg Matula sat at one of our HOA meetings and told the audience when queried about the clubhouse project and it's ever escalating costs whether assessments would be raised? Their response was "we will not raise your assessment fees, but we cannot predict what another board will do". Isn't it convenient that they both stepped down from their board positions only to head our Construction Oversight Committee which seems to be a closed society and can now say "see we told you we wouldn't raise your assessments"????
Beginning next year our assessments will go up the 10% maximum they can legally for the next several years to allow us the ability to afford to pay back the loan when we begin making both principal and interest repayment for around $16,000 a month. As the increases come each year, we will reach over $300.00 a year up from our current $217 in the next couple of years. So much for promises right?
You get a project which started as a survey to determine what the interest in the community was for remodeling the clubhouse which mysteriously turned into being a new build. Said survey reached some but not all households in our neighborhood for response.
You get a project which was originally priced at around $700,000 now currently estimated to cost $1.5 million dollars.
You get a project which the neighborhood was officially notified financing was approved for on a Friday afternoon the 29th of June around 4 pm via e-mail 3 business days before the official "special" meeting being held on July 3 at 2:30 pm in the afternoon of a workday, as well as the day before a major holiday, allowing very little option for most hard working property owners to attend and learn more.  But there were celebratory glasses offered to the first 25 people who attended! I wonder who wound up with those??? Shouldn't this have been a well publicized event for the entire neighborhood with ample notice provided if it were to celebrate the approval?
You get $1.5 million dollars being deposited into our HOA bank accounts in full from day 1 suggested for sometime this week. We will be paying interest on that full loan for the next year while the project begins and is underway.  This is not a construction loan!
Let's see, if my calculations are correct the property owners will be paying interest to the tune of around $10,000.00 per month for the entire time that money sits in our account while the building process takes place. Is that how you do business for your own finances? Where do we have that money in our current budget?
You will get a clubhouse built eventually which will not include the types of interior finishes one would expect for this price tag.  Ask about the furniture, appliances, carpet, exercise equipment and so much more.  And what will be done with the appliances which were bought new just a few years back, the marque which I understand we are giving to Spectrum to re-use in another one of their developments as we widen the entrances to the park under county direction for ingress and egress of EMS and 1st responders? Did we receive any money back for these items? Did we give them away and if so to whom? They belong to the property owners of Timberwood Park. Where will the money come from to furnish the clubhouse properly as will most likely be expected given what was spent on the structure?
You get the park torn up for the summer, fall, winter and possibly into next spring, liability wide open while construction is underway, social events still slated to continue in-spite of that increased liability….just a few of the obvious issues ahead…..the list is endless.
You get gates permanently wide open while construction crews run back and forth allowing anyone and everyone access to the park to continue to vandalize and/or abuse the assets of the park you pay for.
You get deferred maintenance on what we already own in the park for assets due to the budget constraints and the lack of money available to meet our current operating budget.
You get a Clubhouse Construction Oversight Committee whose committee members have been up until now the two previous board members who stepped down and a friend of our current President. I understand that one more person very recently joined the committee when there was a push to provide someone outside the proverbial "circle" of the board to the committee. Maybe the new member will provide some transparency if included in all discussions. Remember there are three votes on this committee who will vote in tandem and outvote a dissenting party if the discussion isn't in line with current thought processes. Have you been made aware of any of this committee's meetings or decisions? To my knowledge none of this committee's work has thus far been in public site, nor do you as a property owner have access to these individuals should you have a question or concern. Why isn't there a well rounded group of property owners with differing backgrounds and differing opinions sitting on this committee representing property owner interests who will handle regular progress reports, informational meetings and discussions, and so on? Is this your project for your neighborhood or this committee's?
Given the lack of detail and information being provided to the property owners who are paying for this project, do you believe due diligence has been done to ensure that knocking down the clubhouse won't knock out electricity to the other features around it? Has there been thought given to those people who hold season passes to the pool who were just getting excited they might actually find space to be at the pool now that the swim team has completed it's season but are now faced with closure of the pool for who knows how long due to construction, the debris that will accumulate in the pool, the demo process in particular, electrical issues, etc.? To my knowledge nothing has been communicated to those individuals going forward.
Given some of the previous projects money has been spent for which have not gone well like, as one example, a splash pad which cost around $50,000-60,000 and subsequently needed to be dug up for leak repairs which cost about $20,000 and now leaks again and will need repairs somewhere along the same dollars or more; should you be confident this project will be managed any differently and done in the best interest of all property owners whether for or against the project?
Is this what property owners really wanted?